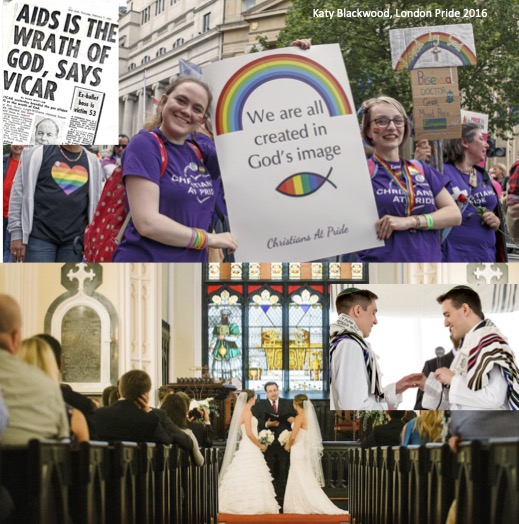 Gay rights movements from the 1960s have given sexual minorities a new social visibility which has challenged traditional norms shaped by the religious heritage of the West. Mainstream LGBTQ history has often portrayed the gay rights movements as a campaign against and liberation from religion. Although the negative aspect of religion in LGBTQ rights campaigns and in the formation of the queer conscience has been hugely significant, an exclusive focus on it fails to account for the positive role played by a fair number of religious groups both before and after the Stonewall riots in New York in 1969, which function as a convenient marker of the start of a new era in LGBTQ history. There is also such a thing as liberation by religion which is visible as much in the support given by clerics —and even in some cases by institutional religion— to LGBTQ movements and campaigns, as in the creation of so-called gay churches and synagogues or the rise of queer theology. The queer challenge to social norms includes reclaiming and reshaping religious tradition itself.
This course focuses on three national contexts, England, Scotland and the United States, and seeks to offer comparative insights in the way in which the campaign to deconstruct homophobic social norms has been shaped by the interplay between religious and legal traditions in different social settings. The campaigns for the decriminalisation of homosexuality and for same-gender marriage make for particularly striking case studies.
Scholarly Papers and Chapters to Annotate (30% of your mark)
You will have to read and annotate a number of scholarly papers and chapters  in the course of the semester. The papers are available is here with the usual password. So that I might privilege the kinds of themes and approaches that you are interested in, please read the abstracts and rank six papers according to your preference by 5th October. Your top favourite paper should be ascribed number 1 and your least favourite, number 6. The papers you do not rank should be those you find even less attractive than your number 6.
Annotations will be made using the hypothes.is interface. Here is a step-by-step guide to using hypothes.is.
Reviewing an online exhibition (30% of your mark)
Please read here about your mid-term presentation.
Recent Posts
To access older posts, please click on "All posts for Gay Rights & Religion" in the sidebar menu.
Please note that the posts are listed in reverse chronological order. When several new posts are published simultaneously, you should therefore start reading from the bottom up.