Dans ce cours de L1 réservé aux étudiants de la double licence anglais-histoire, deux impérialismes majeurs du XXèmesiècle, britannique et américain, seront interrogés en vis-à-vis, ainsi que leurs modes de contestation et de survivance contemporaines. L'Empire britannique a légué à la Grande-Bretagne contemporaine une certaine image d'elle-même qui résiste à la décolonisation et à la perte de son statut de puissance mondiale grâce notamment à des stratégies de soft-power et qui explique en partie l'histoire compliquée des relations entre la Grande-Bretagne et l'Europe depui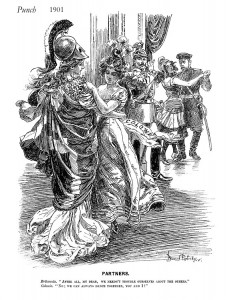 s la Seconde Guerre mondiale. Dans la saga du Brexit, on trouve notamment la survivance d'une certaine conscience impériale. De leur côté, les Etats-Unis ont pensé leur aventure impériale tardivement, et par opposition au modèle proposé par la Couronne britannique et les autres nations européennes. Ils ont imaginé un impérialisme fondé sur l'expansion commerciale et la diffusion de leur soft power, eux aussi contestés au fur et à mesure d'un engagement sans commune mesure dans les affaires du monde. Pourtant le pouvoir d'attraction américain demeure.

Calendrier des séances et des devoirs
26 sept: Deux impérialismes – Two brands of imperalism (Pauline Peretz et Rémy Bethmont)
3 oct: 'Splendid isolation?' The British Empire and Europe at the turn of the 20th century (Rémy Bethmont)
10 oct : British post-imperialism and Europe (Rémy Bethmont)
17 oct : Immigration and multiculturalism in Britain (Rémy Bethmont)
24 oct : Isolationnisme et populisme aux Etats-Unis (Pauline Peretz)
7 nov : Immigration et multiculturalisme aux Etats-Unis (Pauline Peretz)
14 nov : Les remises en cause de l'impérialisme américain (Pauline Peretz)
Rendu du 1er devoir (fait à la maison)
21 nov : British soft-power + correction du 1erdevoir (Rémy Bethmont)
28 nov : Le soft power américain (Pauline Peretz) 28 nov
5 dec : Devoir sur table
12 dec : 'Britain is great again !' (From Thatcher to Brexit) (Rémy Bethmont)
19 dec : « Make America great again ! » et correction du devoir sur table (Pauline Peretz)
Bibliographie
Emmanuelle Avril et Pauline Schnapper, Le Royaume-Uni au XXIe siècle: mutations d'un modèle, Ophrys, 2014.
N. J. Crowson, Britain and Europe: a Political History since 1918, Routledge, 2010.
Dennis Merrill, Thomas G. Paterson, eds, Major Problems in American History : Major Problems in American Foreign Relations, Houghton Mifflin, 1990.
Mary Beth Norton, A Peopleand a Nation, Wadsworth Publishing, 9èmeédition, 2011.
Yves-Henri Nouailhat, Les États-Unis et le monde au XXesiècle, Armand Colin « coll.U », 2000.
David Reynolds, Britannia Overruled: British Policy and World Power in the Twentieth Century, Longman, 2000.
Recent Posts
To access older posts, please click on "All posts for Religion in the Public Space" in the sidebar menu.